Finasteride is an FDA-approved hair loss treatment for male pattern hair loss and a prostate condition known as benign prostate hyperplasia (BPH). It's commonly known by the brand name Propecia. This medication can help stop the progression of pattern baldness and when used to treat BPH, reduces enlarged prostate tissue.
Finasteride definitely works, but it also comes with side effects. It is well known to decrease men's libido and cause ejaculation related-issues, like erectile dysfunction or decreased semen volume. It's not unusual for people who experience these finasteride side effects to want to stop taking this drug immediately.
It's usually fine to stop taking finasteride, though you should tell your doctor before doing so. However, your hair loss or BPH symptoms will rapidly return unless you start a new treatment.
How does finasteride work?
Finasteride is a DHT (dihydrotestosterone) blocker. DHT is the main hormone involved in the progression of androgenic alopecia (pattern hair loss). According to StatPearls Publishing, finasteride can block up to 70 percent of DHT circulating through your body.
Finasteride is the only FDA-approved DHT blocker for pattern hair loss. It's also the only FDA-approved oral medication for this condition. Just one 1-milligram pill a day can help stop the progression of hair loss symptoms.   
How long does finasteride stay in your system?
According to StatPearls Publishing, finasteride stays in the body for about 3 to 16 hours. This drug is excreted from your body every time you use the bathroom. However, it will take about 2 weeks for your DHT levels to return to normal.
Older men may take longer to excrete finasteride. A study in the journal Clinical Pharmacokinetics says that long-term users may also take longer to fully excrete this drug from their bodies. 
What happens to hair when you stop taking finasteride?
You shouldn't see any sudden or immediate changes to your hair when you stop taking finasteride. However, you'll start to see a substantial increase in hair shedding after the first month or two.
Any hair regrowth that you experienced while taking this drug will be lost over time. However, it may take up to a year for your hair density to decrease to what it was when you started using finasteride. After that, your hair loss will continue to progress as if you'd never started a hair loss treatment.   
Will I continue to experience finasteride side effects after stopping?
When you stop taking most drugs, you also stop experiencing their side effects. This means that for most people, finasteride erectile dysfunction recovery occurs within days or weeks. 
However, finasteride side effects don't always go away so easily. Some people continue to experience issues long after they stop taking the medication. This problem, which only occurs in a small number of people, is known as post-finasteride syndrome (PFS). It seems that finasteride long term side effects increase in likelihood the longer you take this drug. 
According to studies in the Neurobiology of Stress and Fertility and Sterility journals, PFS is a group of sexual, neurological, neuropsychological, and physical side effects. People with PFS may not only experience the most common symptoms, like decreased libido and erectile dysfunction, but might also experience problems like:
Difficulty achieving orgasm

Joint and muscular pain

Chronic fatigue

Genital numbness

Sleep disorders

Tics and muscle spasms

Depression

Anxiety

Cognitive fog

Suicidal ideation
People with PFS have been reported to experience symptoms for several years. Once users discontinue the medication, side effects (or coping mechanisms) may improve over time. However, according to the Post Finasteride Syndrome Foundation, there are no known studies of full recovery. 
It is still not known for certain why PFS occurs. However, recent studies in The Journal of Sexual Medicine and ​​Journal of Endocrinological Investigation say that this rare but serious side effect may be linked to differences in gene expression and alterations to the gut microbiome.  
How to stop taking finasteride without losing hair
Maybe finasteride was giving you unpleasant side effects, or maybe you just felt like it wasn't working for you. Regardless of the reason, if you want to stop taking finasteride but don't want to lose your hair, you'll need to start using another hair loss treatment. 
The good news is that you have a few different options. You should likely start by considering minoxidil, a topical vasodilator that's available as a liquid or foam, or low-level laser therapy, a biostimulatory light therapy treatment that stimulates hair follicles. Both of these are FDA-approved treatments for androgenic alopecia.
If it's another DHT blocker you're after, these also exist. However, be aware that there are no other DHT blockers approved as hair loss treatments by the FDA. 
Can you switch from finasteride to laser hair treatments?
Finasteride and low-level laser therapy (LLLT) are both FDA-recommended treatments for androgenic alopecia. LLLT is available at clinics or can be done at home if you purchase your own device. You can find a range of different options to choose from, including combs, caps, helmets, and hair bands.
If you feel like finasteride isn't working out for you (or you're wary of post-finasteride syndrome), you can switch to LLLT without any problem. A recent study in the Bulletin of Physical Therapy reported that daily doses of finasteride were just as effective as daily 15 minutes LLLT sessions when treating pattern hair loss.  
If you're still on the fence about switching from finasteride to LLLT, you should be aware that you can use both treatments together. Although this combination treatment is not yet approved by the FDA, an International Journal of Trichology study reported that finasteride and LLLT can be used together. Since they work to fight hair loss in different ways, they may even work synergistically. 
Can you switch from finasteride to minoxidil?
Finasteride and minoxidil are both very effective hair loss treatments. Minoxidil is FDA-approved in two concentrations: 2 and 5 percent. It's sold as either a liquid serum or a foam. 
You should have no problem switching from finasteride to minoxidil. According to a meta-analysis published in The Journal of the European Academy of Dermatology and Venereology, finasteride and 5 percent minoxidil are equally effective in treating pattern hair loss. 
Minoxidil works in a completely different way to finasteride. As a vasodilator, it is thought to encourage hair regrowth by increasing blood flow to the scalp and hair follicles. If you'd like to try out another hair loss treatment before you decide whether or not to stop taking finasteride, you should know that minoxidil also has the potential to work synergistically with finasteride. 
While combining minoxidil and finasteride has not yet been approved by the FDA, a meta-analysis of five randomized controlled trials in the Aesthetic Plastic Surgery journal found this combination therapy to be safe and effective. In all cases, combining minoxidil with finasteride was more effective than using either treatment on its own. 
Choosing another DHT blocker
If you feel like finasteride wasn't working well for you but you're still open to another DHT blocker, you have a few options. Some are weaker, while some are stronger DHT blockers compared to finasteride. 
Dutasteride
Dutasteride, which is used to treat prostate issues, is sometimes used to treat androgenetic alopecia. It's much stronger than finasteride. According to StatPearls Publishing, it can reduce DHT levels by as much as 99 percent. The downside is that it causes most of the same side effects finasteride does, including PFS. 
If that doesn't deter you, you'll need a prescription from your doctor in order to obtain dutasteride. Most Americans would also need this drug to be prescribed off-label, since dutasteride is only approved as a hair loss treatment in South Korea and Japan.
Saw Palmetto Extract
Saw palmetto extract is another popular DHT blocker. However, unlike finasteride and dutasteride, saw palmetto is 100 percent natural. This botanical extract comes from the ripened berries of the saw palmetto palm tree. It's infused into a variety of products, including shampoos, lotions, and nutrient supplements. 
A recent review in the Skin Appendage Disorders journal says that saw palmetto may be able to help people with pattern hair loss and telogen effluvium, which is also known as stress-related hair loss. The review found that topical and oral saw palmetto products were able to improve overall hair quality, increase hair density, and stop further hair loss.  
Unlike finasteride and dutasteride, minimal side effects have been associated with saw palmetto products. The review reported that people consuming saw palmetto supplements have reported mild gastrointestinal symptoms, like bloating, upset stomach, and constipation. Users of topical products have reported skin-related side effects like itchiness, acne, or hot/cold sensations. These mild side effects are obviously a far cry from PFS. 
Unfortunately, the downside is that saw palmetto extract is not an FDA-approved treatment for hair loss. This is partially because this nutraceutical is not considered to be as strong as DHT blocking medications. While there's nothing wrong with using saw palmetto supplements and shampoos, it's likely best to use an FDA-approved option like minoxidil or LLLT, too. 
Ketoconazole shampoo
Another DHT-blocking product is ketoconazole shampoo. Ketoconazole is an antifungal drug with anti-inflammatory and DHT-blocking properties. It's usually used to get rid of dandruff or scalp infections and is considered to be quite safe. 
Recent studies have assessed ketaconazole's ability to help counteract pattern hair loss. According to a review in Dermatologic Therapy, it's been found to increase hair thickness and hair density in people with androgenic alopecia. While more studies are needed, there's nothing wrong with incorporating this DHT-blocking shampoo into your hair care routine.
What treatment should you use if you stop taking finasteride?
Finasteride is an FDA-approved androgenic alopecia treatment that's been around for many years. It's always been known to cause unpleasant sexual side effects. However, more recently, some users have reported much more serious side effects, including post-finasteride syndrome. Reports of PFS have made many people wary of using this drug.  
If you're looking for another solution to stop the progression for your pattern hair loss, you should likely consider one of the other two FDA-approved alternatives: 5 percent minoxidil or low-level laser therapy. Both of these treatment options are thought to work just as well as finasteride. 
If you were hoping for another DHT blocker, you're unfortunately out of luck. Finasteride is the only FDA-approved DHT blocking medication for androgenic alopecia. Dutasteride, a similar medication that is an approved hair loss treatment in some parts of Asia, causes most of the same side effects. 
However, you can consider using nutraceutical DHT blockers, like saw palmetto shampoo and nutrient supplements. These have been shown to have a positive effect on stopping the progression of pattern hair loss. You may also want to consider ketoconazole shampoo, which can block DHT and help improve your scalp microbiome.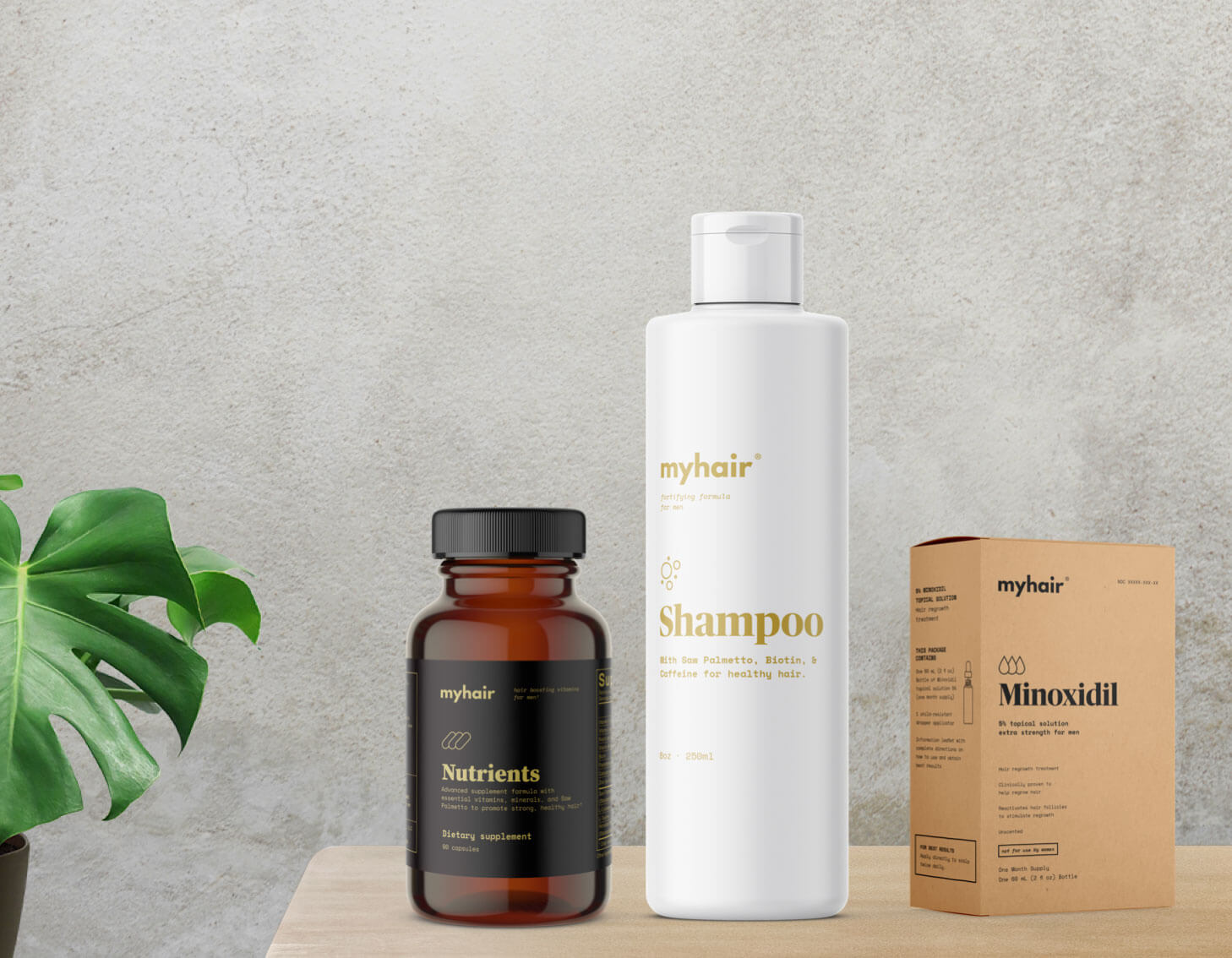 Regrow your hair with minoxidil – a much safer choice than finasteride.