Does minoxidil work for men? If you have male pattern baldness, the answer is likely to be yes. 
If you're reading this, then you've probably already heard of minoxidil. The name might not be catchy, but it's one of the most effective hair loss treatments currently available.
What is Minoxidil?
Minoxidil is approved by the U.S. Food and Drug Administration (FDA). Numerous clinical studies and tests have been done on both men and women to understand the conditions under which minoxidil works best.
While there's a lot of information about using minoxidil for men, a study in the Drugs Journal says that it's also prescribed for female pattern baldness. If you've been diagnosed with the genetic condition that causes premature loss of hair called androgenetic alopecia, minoxidil is highly likely to work for you.
Unlike some of the other solutions such as laser therapy, surgery or taking finasteride, minoxidil won't break the bank. A Journal of the American Academy of Dermatology study also reported that it doesn't have any drastically negative side effects.
How does minoxidil work?
Minoxidil is the active agent in over-the-counter or prescription medications that help to expand blood vessels. Essentially, it makes it easier for blood to flow through them. This type of medication is known as a vasodilator. Apart from being used to help hair growth, it can be prescribed for high blood pressure, too.
Minoxidil: Before and after treatment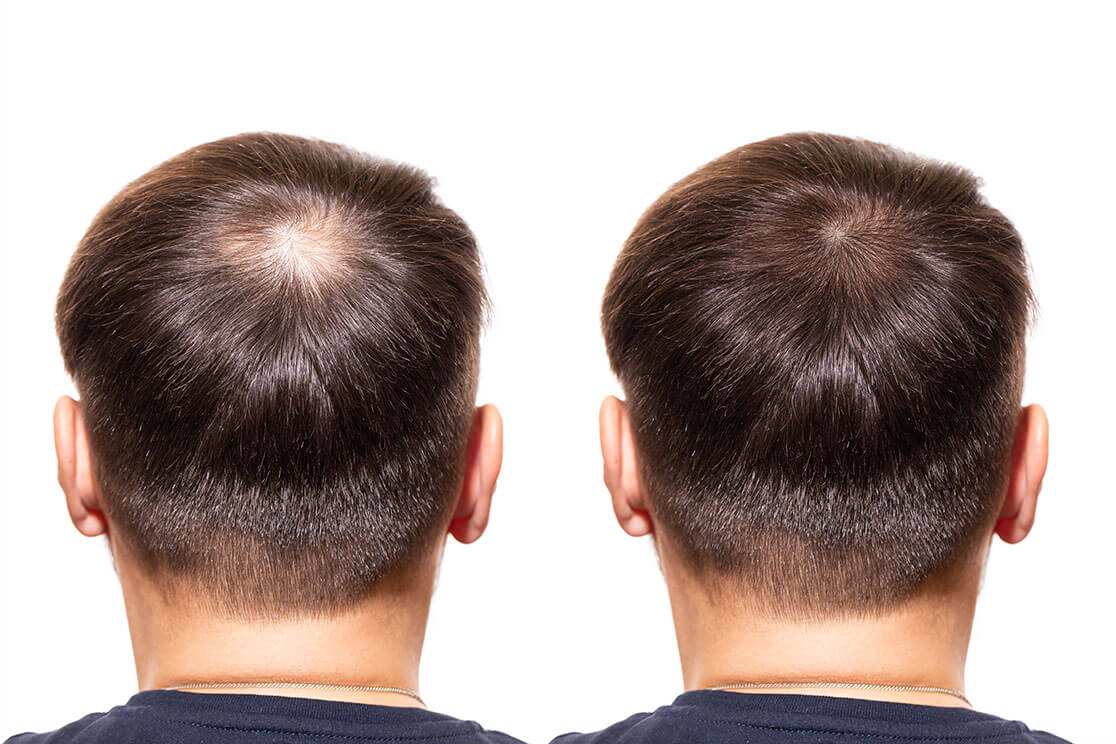 Minoxidil is able to treat mild to moderate hair loss
Minoxidil was approved for use in the 1980s as a treatment for hair loss. In 1988, a
Clinics in Dermatology
 study published a report stating that one of the largest minoxidil studies, assessing 1,833 men over a 12-month period, had been completed without causing major side effects. A 
Dermatologic Clinics
 journal publication reporting on the same study said that approximately 40 percent of men from this study had experienced moderate to dense hair growth on the crowns of their heads (the area where men typically suffer a large amount of hair loss).
Minoxidil studies show that treatments generally work best for younger men. According to a study in Recent Patents on Inflammation & Allergy Drug Discovery, this drug is most effective in people who have had hair loss for five years or less. Results are generally best when treatment starts before the hair follicles have started shrinking.
How does minoxidil work best?
Minoxidil is an easy-to-use treatment that you apply to the scalp daily. Apply minoxidil topically to the area of hair loss. It works best if you apply it twice a day, morning and night.
The Dermatologic Clinics study said that it took around four months for substantial results, but some positive change can likely be seen by the second month of treatment. However, keep in mind that any break in the treatment routine may delay the positive effects of the drug. 
You might also want to consider combination therapy, like microneedling with minoxidil. A study in the International Journal of Trichology reported that the average increase in hair count of the targeted areas was far higher for people that used both minoxidil and microneedling compared to those that just used minoxidil. In this case, the men studied had experienced significant hair loss for 3 to 10 years. 
Keep in mind that other factors can also affect the success of your hair loss treatment, regardless of whether it's minoxidil or a type of combination treatment. For example, consuming a varied, nutritious diet and maintaining a healthy scalp are both important for healthy hair growth.
The do's and don'ts of minoxidil
Minoxidil is primarily used for people who have male or female pattern baldness. If you want to use it for other conditions, you should first talk to your doctor to determine if minoxidil is right for you.
When using minoxidil, the Mayo Clinic and Dermatologic Clinics study say that you should avoid:
Applying minoxidil if the skin on your scalp has any abrasions or irritations, or has become sunburnt. This can result in minoxidil entering your bloodstream in large amounts.

Applying other skin products to the same area where you use minoxidil unless your doctor has approved these products in advance.

Using minoxidil for 24 hours before you use any hair treatments, like hair dyes or hair relaxers. You must wash your hair and make sure your scalp is free of minoxidil before doing any of these treatments. Wait another 24 hours from the time the treatment has been completed before applying minoxidil again.  

Taking double doses or increased doses of minoxidil if you miss a dose. 

Using gel or mousse styling products. Spray-based products are fine to use.

Getting your hair wet for four hours after application, as this can reduce minoxidl's effect.
Since minoxidil is a vasodilator, you should also be careful about taking minoxidil if you have a heart condition or a history of high blood pressure. In this case, make sure you talk to your doctor before you start using minoxidil.
Ultimately, minoxidil is a safe, effective way to treat hair loss if you are losing hair from pattern baldness. It's also pretty easy to use and relatively inexpensive. Just don't expect it to work overnight, though; it typically takes a little while for minoxidil users to see hair growth.