When you think of a person with thin hair, who's the first person that comes to mind? If you're into politics, your mind might shoot to Donald Trump or Boris Johnson – two politicians well known for their comically thin, strawberry blonde hairdos.
Not so familiar with politicians? Male celebrities like Ben Affleck, Jude Law, and Nicolas Cage have all struggled with thinning hair. Even female celebrities like Rosie O'Donnell have had this problem.
It might surprise you, but most people will struggle with thinning hair at some point in their lives. Fortunately, the right haircut and hair care routine can help hide most of your hair problems.
The right care for thinning hair
Some people have naturally thin hair, while other people only experience thinning hair later on in life. Have you noticed your hair thinning? If so, the next question is: Where is it thinning?
Thinning hair often occurs around the hairline, at the temples, and around the top of your head. If you weren't already aware, thinning hair in these regions can be a sign of androgenic alopecia (also known as male pattern hair loss) – the most common cause of baldness. 
There are many different hair loss treatments that can help prevent the progression of thinning hair, including low-level laser therapy, finasteride pills, and minoxidil serums and foams. Without the right treatment, your hair is likely to continue thinning — and the problem will eventually become much more obvious.
While treatments are effective, they can take a little while to start working. If you've already started using a hair loss product or device, you're likely counting the days until your hair starts growing back. 
In the meantime, you can often make yourself feel better by simply getting a haircut that takes attention away from the thinning parts of your hair. The right cut, style, and hair products can make your hair look thick and voluminous – as if your hair had never even had this problem.
Choosing the right haircut
There are dozens of different haircuts for men with thin hair. In order to choose the right one for you, you'll need to consider a variety of different factors. Ask yourself:
Where exactly is my hair thinning?

Do I want to maintain my facial hair?

What are my face and jaw shape?

What's my hair texture like?

How much hair maintenance am I willing to do?
The answer to these questions will obviously differ from person to person, so there's no singular best haircut for thin hair as a man. That being said, some questions are easier to answer than others. While it's obvious if your hair is straight or curly, most people don't have a good idea about their face shape.
According to a study published in the Eighth International Conference on Advanced Computational Intelligence, there are six main types of face shapes:
Heart-shaped face, where you have a broad forehead greater than your jawline

Square-shaped face, where you have a sharp, defined jawline

Round-shaped face, where you have a soft, rounded jawline

Oblong-shaped face, where your face is very long compared to its width

Oval-shaped face, where the length vs. width is a 3-to-2 ratio

Diamond-shaped face, where you have distinctly wide cheekbones
If you're still not sure of your face shape and jaw type, talk to your hairstylist or barber. They can help you work out which face shape you have and the best haircuts for your face.
The best haircuts for men with thin hair
Almost every good men's haircut for thinning hair will involve a fade or undercut. This type of cut highlights the hair on top of your head, making it look thicker and more voluminous. What you do next with the hair can differ substantially, though. 
Undercuts and fades 
Men's short haircuts for thin hair will typically involve a fade with a textured or messy top portion. These haircuts are particularly good if you're thinning at the temples but not the crown of your head. 
Undercuts and fades are flattering for both men with fine hair and thinning hair
If you prefer your hair long in certain areas, you can still achieve this look by cutting the sides short. If you have no thinning hair at the crown, you can leave a handful of long locks between the front and center to give your look a bit of variety. Use this longer section of hair to style your hair to the front or side, or sweep it up and back.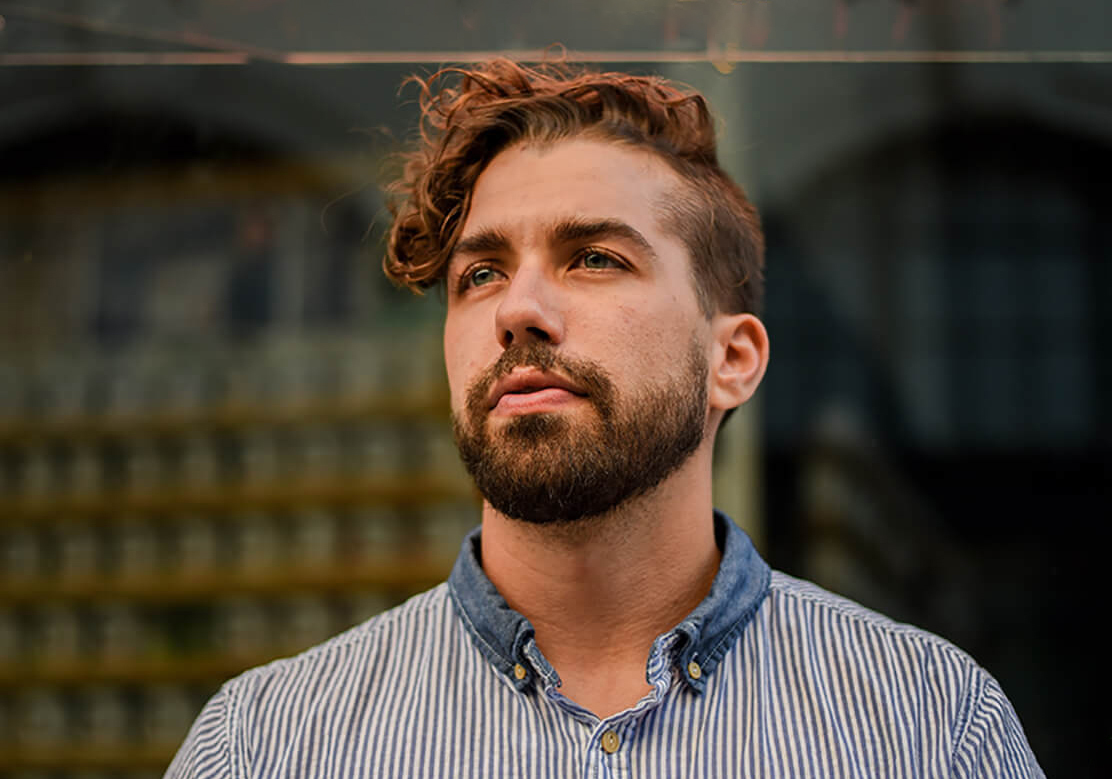 It's possible to keep sections of your hair long and still get an undercut or fade
If you have thinning hair around the front of your head, causing a receding hairline, you can do a very gradual fade, keeping all the hair above your ears long. When styling your hair, you'd push it forward, creating a forward sweep or fringe. This is a particularly good look for hair with light waves or straight thin hair.
Bangs and fringes are styles that easily hide a receding hairline
If you are starting to experience thinning at the crown, it can be a good idea to grow all your hair out before cutting it. Sweeping it back — or even tying it back into a small ponytail or bun — and keeping the sides and back cropped short can make you look like you have a thick head of hair.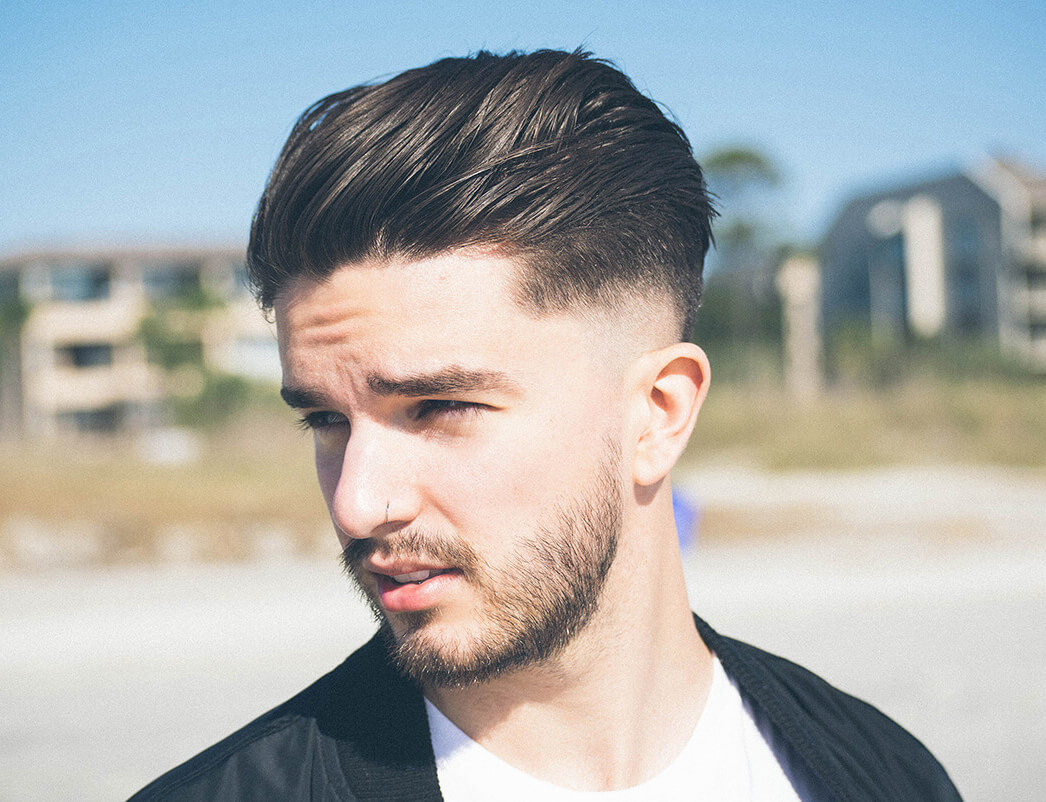 Growing your hair out and sweeping it back can hide thinning at the crown
If you choose to keep your hair long on top, it's important to make sure that your hair looks shiny and healthy: All of the attention will be directed to that part of your head. If your hair is thin, greasy, or flat, you may want to consider using dry or volumizing shampoo. You'll also want to make sure that you're cleaning your hair with the right type of products: Regular use of the right shampoo can make all the difference in keeping your hair clean and your scalp healthy.
Short crops and buzz cuts
Not everyone cares about styling their hair every day, though. If you'd prefer a more low-maintenance look, why not try a long buzz cut? This haircut can be done with or without a fade and flatters most hair types.
Buzz cuts are low maintenance haircuts that keep you looking fresh
If your thinning hair has progressed to multiple areas on your head, your options may be a bit more limited. Haircuts for thin, straight hair are often quite low to the scalp. If you still want to look like you have a healthy head of hair, shorter buzz cuts can look excellent, especially if you are sporting interesting or well-groomed facial hair.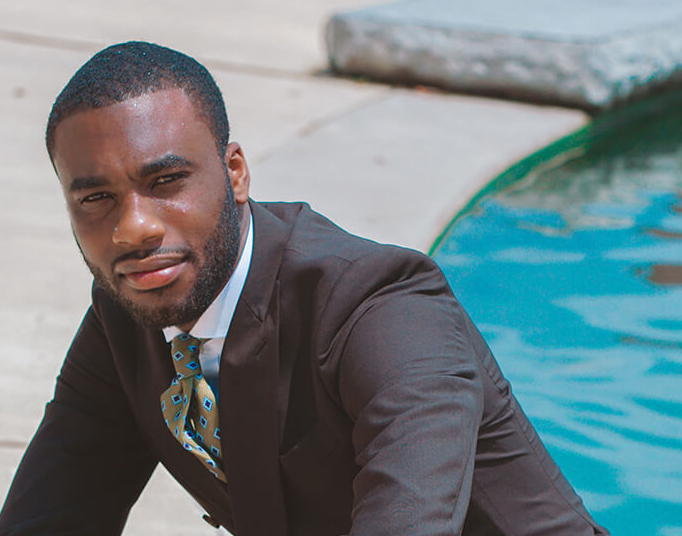 Short buzz cuts can be very stylish, especially when paired with well-groomed facial hair
Takeaway
Thinning hair rarely goes away on its own. If you want to stop this problem in its tracks, make sure you talk to your doctor about your options and make an action plan. 
If you've started your hair loss treatment, don't expect immediate results. Instead, talk with your hairstylist about the most flattering ways to cut and style your hair based on your face and jaw shape. There are many haircuts for men with thin hair, but choosing the right one for you will depend on your lifestyle and individual needs.