A receding hairline. Thinning hair. Hair loss. Bald spots. These are common signs of a genetically based condition called androgenetic alopecia. 
Also known as male-pattern baldness, the U.S. National Library of Medicine reported that this condition appears in about 50 percent of men over the age of 50. That's about 50 million individuals in the U.S. 
According to StatPearls Publishing, the highest incidence occurs among white men. Asians and African Americans place second, and the lowest incidence occurs among Native Americans.
Can hair loss be stopped?
Certain types of hair loss, like the hair loss symptoms caused by autoimmune diseases, can be very challenging to treat. However, most people can try out different treatment options that may help turn the tide and prevent continued hair loss. 
It's always important to start with a thorough examination by a licensed physician before beginning any course of treatment, as some hair loss conditions may be medically based and therefore reversible. Once you have ruled out a medical reason for hair loss, you're ready to investigate a number of hair loss products.
Google "hair loss" or "male-pattern baldness" and you'll see how easy it is to be drawn in by ads promising quick and easy results. While seemingly innocuous home remedies for hair growth may appear to be worth a try, there is often no objective scientific data proving their worth. And for those already embarrassed by hair loss, getting hooked by online promises may only compound frustration, sadness and shame.
Minoxidil
FDA-approved drug minoxidil (Rogaine®) is widely used and well accepted in the treatment of androgenetic alopecia. A study in Drug Design, Development, and Theory reported that minoxidil, which has been on the market since the 1980s, is currently sold as a foam or liquid. This product is:
Available as minoxidil 2% or minoxidil 5% formulation

Available without a prescription

Applied topically to the scalp as foam (5%) or solution (2% or 5%) twice daily
Minoxidil's results aren't immediate. In fact, you may very well continue to see symptoms of hair loss for a brief period after starting treatment. You'll likely start to notice improvement within two months of use. 
Sometimes, minoxidil is combined with other treatment strategies. For example, a study in the Journal of Cutaneous and Aesthetic Surgery reported that minoxidil combined with microneedling could help treat androgenetic alopecia. Microneedling works by stimulating the hair follicle cells in your scalp to help promote hair growth.
Once your hair grows back, you can't stop taking minoxidil, though. Hair loss symptoms will start back up again around three months after treatment is stopped. 
Some minoxidil users experience mild negative side effects, like redness and a dry or itchy scalp (scalp pruritus). This problem can sometimes be corrected by switching to a lower concentration product or avoiding minoxidil products that contain propylene glycol.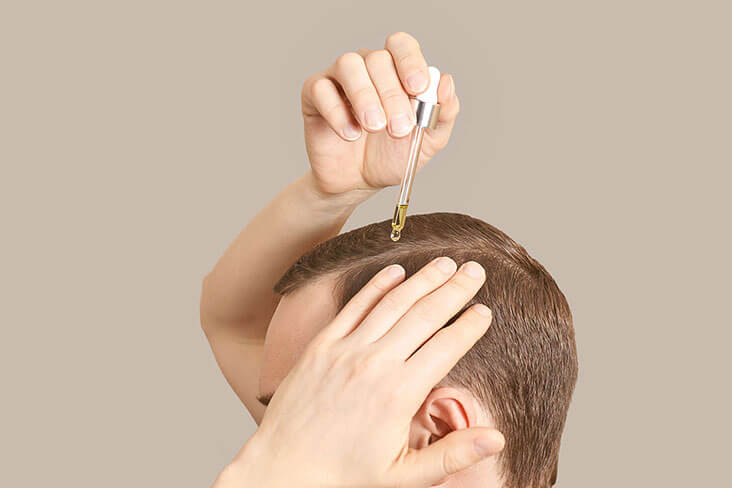 Minoxidil needs to be applied directly onto the scalp to be effective
Finasteride effectiveness and side effects
As an alternative to minoxidil — but generally available only by prescription in pill form — is oral finasteride. Finasteride, commonly known as the brand Propecia®, is also commonly used in the treatment of androgenetic alopecia.
Finasteride works by interfering with the production of DHT, a hormone linked to hair loss. The Mayo Clinic says that finasteride has been shown to increase hair growth and prevent further loss. This medication increases the number of hairs on your head without affecting the amount of  hair on the rest of your body.
Finasteride takes a while to have any effect. You  might not see any improvement in hair loss symptoms  for three months or more. 
Like minoxidil, you have to continue taking finasteride in order to maintain hair growth. If you don't, hair loss will resume within one year of ending treatment. 
While well tolerated in most individuals, the most common negative side effects of finasteride use are sexual in nature. Common side effects include a decreased interest in sexual intercourse, sexual ability, drive, or performance, and the inability to have or keep an erection. Other non-sexual side effects include dizziness, chills, and cold sweats. Sometimes, side effects may disappear as your body adjusts to the medication.
Follow your doctor's instructions or directions on the package. Always talk to your doctor about any unwanted side effects from finasteride or minoxidil.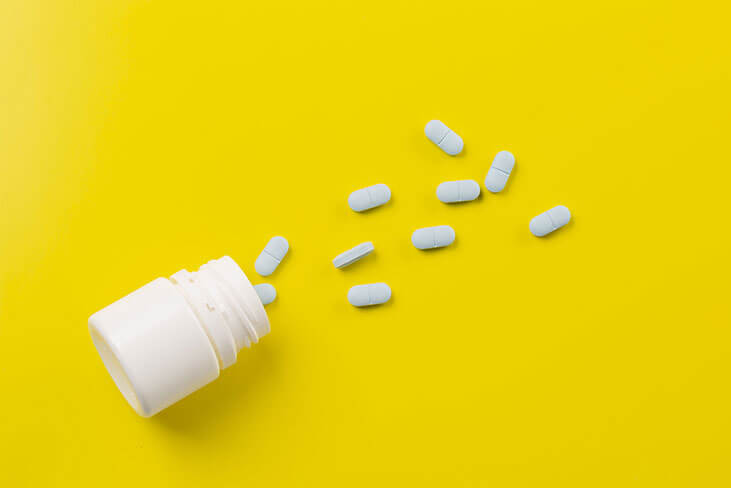 Finasteride is currently only commercially available in pill form
Low-level laser therapy for hair growth
Lasers and lights have been used in the medical field in a variety of ways and at different intensities. They can treat a range of conditions, such as tumors, scars or wounds, and can help remove unwanted hair. 
The Lasers Surgery and Medicine Journal reported that low-level laser therapy (LLLT) has been found to be a good alternative for people with male pattern hair loss. LLLT devices may be particularly good choices for people who haven't gotten other conventional treatments to work. Both safe and effective, LLLT applied to the scalp has been shown to stimulate hair growth. 
LLLT is sometimes used as a stand-alone treatment or in conjunction with another treatment. It is suggested that LLLT continue for a period of six to 12 months. The biggest downside is that LLLT devices are often one of the more costly alternatives, like surgical options.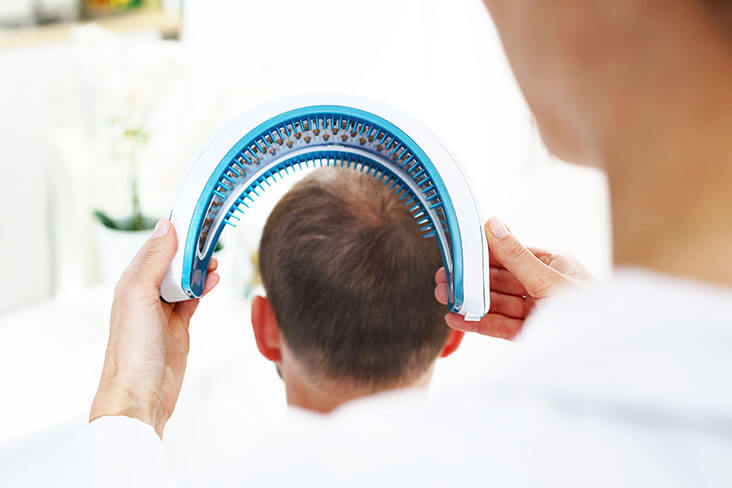 LLLT is a safe and effective but expensive way to treat hair loss
Wash away the blues
Current research findings suggest that some shampoos on the market have properties that can help restore hair in androgenetic alopecia. Serenoa repens, commonly known as saw palmetto, is an oily extract made from the berries of a saw palmetto tree. The extract is often incorporated into supplements or hair care products.
A study in the Journal of Cosmetic Dermatology, reported that this plant extract has DHT-blocking properties. Topical application of hair care products with saw palmetto have been shown to be a safe and effective way of reducing hair loss symptoms. Saw palmetto shampoo and other products are a good choice for people seeking a non-invasive treatment for male-pattern baldness.
Another DHT-blocking product is the non-prescription shampoo Nizoral®. This shampoo contains a 2 percent concentration of  ketoconazole. Ketoconazole products are typically used as anti-dandruff products, but they've also been shown to improve hair growth in androgenetic alopecia.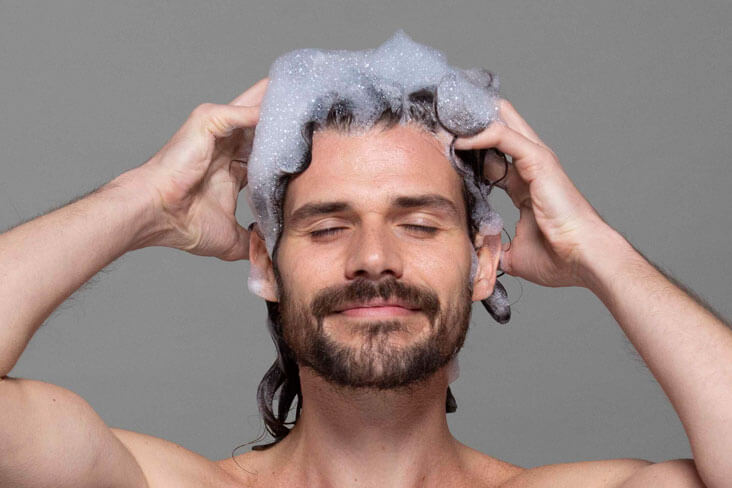 Shampoos containing ketoconazole or DHT-blockers can help reduce hair loss
What about herbal supplements?
Herbal medicines and alternative treatments are often sought when addressing hair loss. However, the use of herbal supplements is not regulated by the U.S. Food and Drug Administration (FDA), and many products are promoted and sold with little or no research to substantiate claims. 
A few different herbal supplements have been tested, though. A study in the Journal of Ethnopharmacology reported that plants like Lingzhi mushroom, red bayberry, white cedar, black pepper leaf, and saw palmetto all have DHT-blocking properties, which means they might be potentially useful in counteracting male pattern hair loss. 
The Journal of Cosmetic Dermatology study also reported that certain essential oils and other plant oils typically used in aromatherapy may have the ability to help with hair loss. These plant oils are typically used to help improve the scalp's health and prevent infections or conditions like dandruff, though, which means that they are usually better suited as complements to help support other hair loss treatments.
Most of these products are not FDA-recommended to treat any health-related problems. However, certain studies do support their use. For example, an International Journal Of Immunopathology And Pharmacology study reported that hair growth occurred in men who took saw palmetto. This study recommended saw palmetto as an alternative treatment strategy for people who don't respond well to products like finasteride or common topical hair loss products.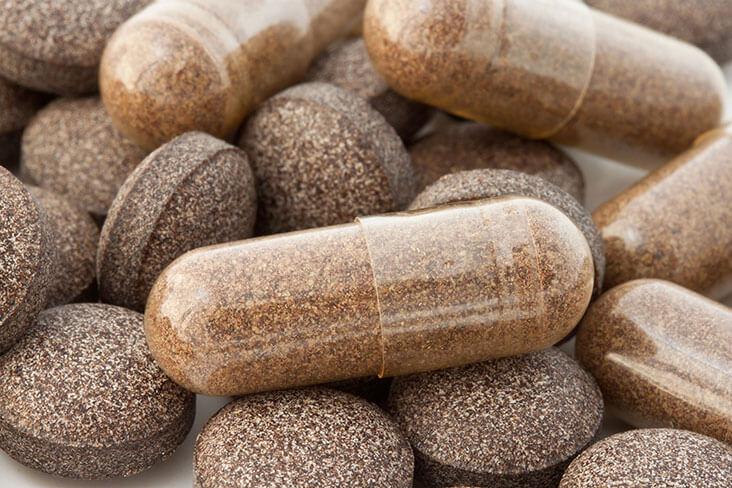 Herbal supplements containing natural DHT-blockers may also help reduce hair loss
Falsely marketed hair loss products
Unsourced claims abound and include an assortment of oils meant to generate hair growth. Be sure to read the fine print, even in so-called scientific studies. While some "remedies" may help hair feel healthy and look shiny, they do not prevent the effects of androgenetic alopecia and can't help generate new hair.
There is no scientific evidence to support the use of coconut oil for hair loss in those with male-pattern baldness. The same can be said about olive oil for hair loss. Yet, while neither product will aid in hair growth, these oils may be of benefit in nourishing already dry or chemically damaged hair.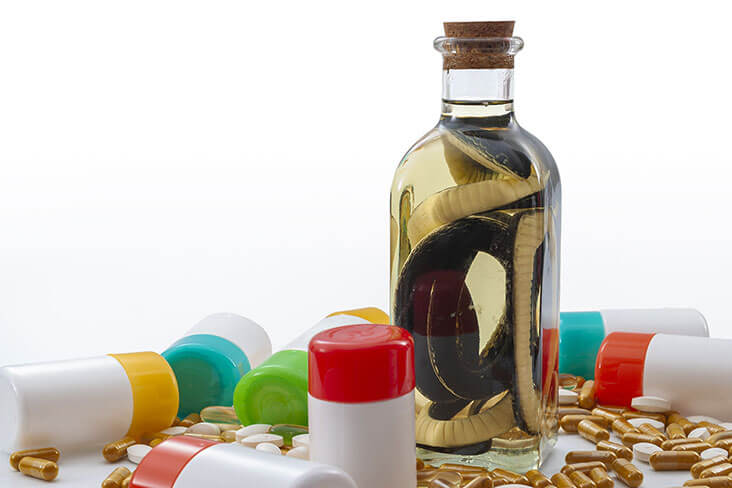 Found a miracle cure for hair loss? Unless it's used with one of the three FDA-approved treatments, it's unlikely to work.
Takeaway
Examining a range of treatment options is an important first step in addressing hair loss due to androgenetic alopecia. Many clinical studies have evaluated the effectiveness of existing options, including surgery, and provide a good starting point when deciding on a plan of action.